04/28/2015 AT 02:00 PM EDT
When 7-year-old Natalie McGriff of Jacksonville, Florida, felt like her hairstyle was a personal flaw, she turned her insecurity into a superpower.
McGriff teamed up with her mother, Angie Nixon, 31, and wrote a comic book titled The Adventures of Moxie McGriff, which is about a young girl who saves her town with her hair's special powers. The comic book won over $16,000 at One Spark, the world's largest crowdfunding festival, on April 12.
"I wanted long hair," Natalie tells PEOPLE. But now she says, "Everyone should be proud of who they are."
Nixon says the book, whose protagonist was illustrated to look like Natalie by a local artist, is not only for young girls.
"I hope this book sparks conversations that need to be had, as it relates to African-American women and their hair," she tells PEOPLE. "It's not just little girls that have issues with their hair, it's adults as well."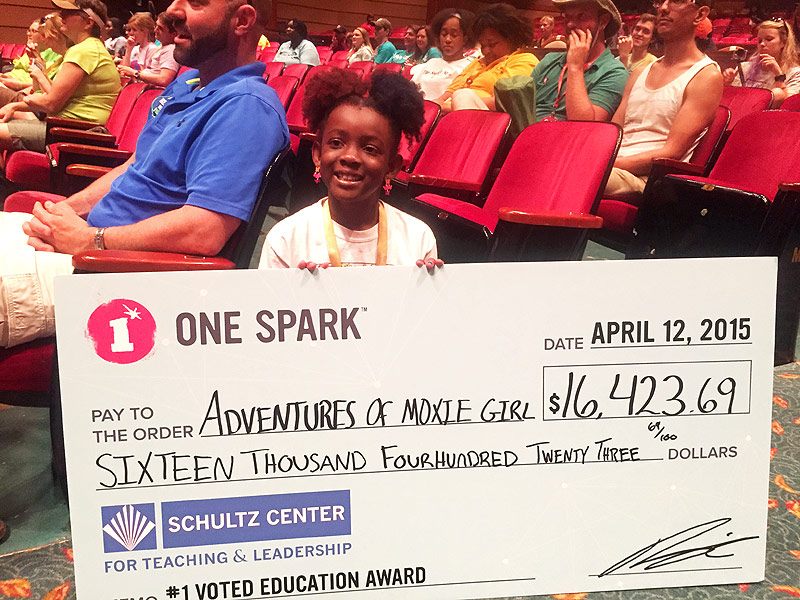 The book is expected to be published in late May and is continuing to gain donations on One Spark. The book has now raised over $17,000, and the amount is growing.
But the mother-daughter duo aren't stopping with Moxie.
Nixon says they also plan to write a book inspired by Natalie's cousin who has tubes in his ears – hearing aids will be his superpower.
"I'm just honored and happy that we start dialogue – open and honest dialogue – and I just look forward to more positive things coming out of it and more women feeling empowered and beginning to really love who they truly are," Nixon says.